Please visit our new website
www.fortdentalclinic.com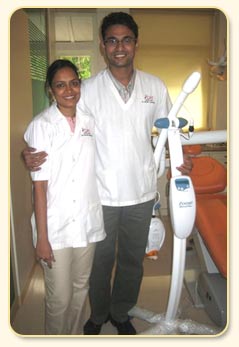 A husband and wife dental duo, Dr. Arun Nayak and Dr. Ahilya Lad Nayak have created a unique dental office that feels more like home than a dental clinic. This relaxing, soothing environment, combined with some of the most sophisticated technology in dentistry, sets a new standard of care. We follow the most stringent of sterilization procedures.
Dr. Ahilya has a master in Prosthodontics from the Nair Hospital Dental College, Mumbai and has graduated from Government Dental College, Mumbai. She is a life member of the Indian Prosthodontic Society and has presented papers on various aspects of dentistry.
Dr. Arun combines an exceptional education and clinical experience with his dedication to improving patients' dental health. He has a Masters in Orthodontics and is Board Eligible for Diplomate of Indian Board of Orthodontics. Dr. Arun constantly updates his expertise in multiple orthodontic techniques. Currently, he is a faculty member at Bharati Vidyapeeth Dental College, Navi Mumbai and a life member of the Indian Orthodontic Society.
Both doctors have undergone extensive clinical training as associates with various established clinicians in the city. They attend extensive continuing education in all fields of dentistry. At leisure, Drs. Arun and Ahilya love to travel, swim and hike.
The rest of our carefully selected team shares our commitment to providing you with the highest quality dental care.
All staff members are eager to answer any questions you may have concerning scheduling of appointments, and coordination of financial and insurance matters.
We know your life is busy, so we respect your time by offering time-saving techniques, from our scheduling procedures to one-visit crowns. Explore us online, then call to schedule your initial consultation today.